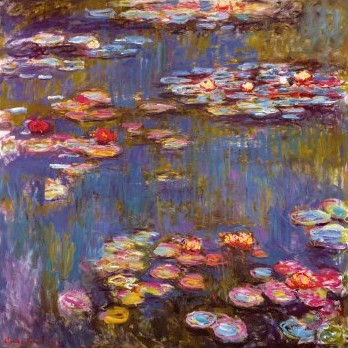 "FROM COROT TO MONET: THE SYMPHONY OF NATURE"
This prestigious exhibit is open until June 29, 2010 inside the Victor Emmanuel Monument.
It's a trip through the extraordinary innovations of the XIXth century that revolutionized  traditional painting.  These new techniques modernized painting, resulting in Impressionist painting that displays an expanded, broader understanding of nature and the culture of the times.
For the first time in Italy, you will see vintage photos, paintings and drafts from the beginnings of Impressionism of the Barbizon School of to the chromatic triumph of the Water Lilies by Claude Monet.  You will explore the colorful revolution of the Impressionists, admiring the atmospheres of Frédéric Bazille and Alfred Sisley, Gustave Courbet's Poppy Field, paintings by Auguste Renoir and Camille Pissarro including his Pontoise landscape.
Organized by major art historians from throughout the world, the works come from galleries and private collections including the Art Institute of Chicago, the Metropolitan Museum of Art and the Public Library of New York, the National Gallery of Art and Corcoran Museum of Art of Washington, Toledo Museum of Art, Kimbell Art Museum, Musée Fabre of Montpellier, Bibliotèque Nationale de France of Paris and the Hamburger Kunstalle.
Address: Complesso del Vittoriano
Via S.Pietro in carcere (Imperial Forums)
From Monday to Thursday: 9.30AM-7.30PM
Friday and saturday:           9.30AM-11.30PM
Sunday:                               9.30AM-8.30PM
Cost of the ticket: EU 10,00
INFO: 06/6780664 – 06/6780363
Lorenza Faraone
Roman Guide Center