Cats of Rome
March 24th, 2009 posted by admin
When someone speaks of Rome, usually thinks about the main attractions of the Eternal City, of several monuments reminding centuries of history, of all museums that satisfied the curiosity of tourists from a lot parts of the world, telling also stories of famous people and not only …
However, not all of them, find that in every corner of the city, there are hundreds or perhaps thousands of lucky witnesses, the most common of everyday life: the cats of Rome!
Beautiful cats of every breed and size, multicolored or with a single color, of a neighborhood or of a private person.
Small and sweet animals, camouflaged among the cars in the parking areas, between the loops of all places, on benches in parks or in the middle of traffic, and which often give color and grace of the infinite beauty of the capital.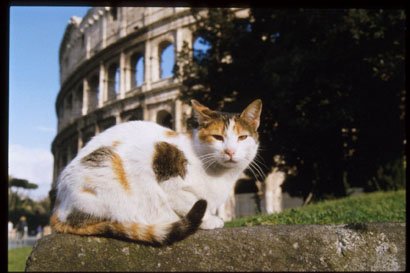 They are so involved in the capital life, that now in all stores where tourists usually go, it is impossible that miss the classic card with a cat at the foot of a historical statue or, tired in the warmer months, it quenches the Trevi Fountain or Fontana Barcaccia (wonderful work of Bernini) located at Piazza di Spagna.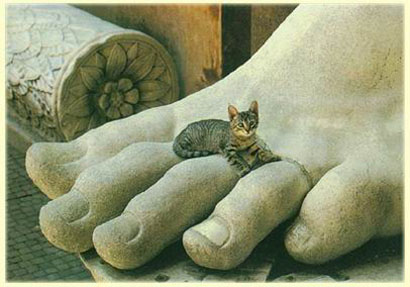 The protagonist of the Roman landscape, the feline population is increasing, so that we reach even more than 300 colonies with different locations.
There are also the so-called "gattare", the old women that deal with these animals, cuddle them and spend a lot of time as well as give them something to eat and often take care of their health and cleanliness.
However has to be noted that not always they are old people. Lately I have more and more frequently to seen children and families who care even though it is often difficult to take pets inside their homes.
Often there are even entire blocks that "adopt" as a mascot these beautiful animals.
We hope this habit takes more and more foot in the city life, do not have pets at home to care for and love them equally.