Vegetarian Italian Dishes
September 28th, 2012 posted by admin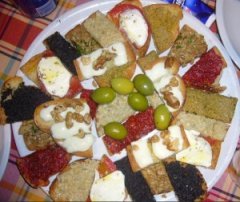 If you are a vegetarian and you are coming to Rome, you definitely need to know what dishes not to miss. You'll be glad to find out that italian food is not only consisting on salame, prosciutto and mortadella. There are many meat-free dishes that are heavenly delicious and which can be found in almost every menu. Write down this list of typical roman vegetarian dishes so you can make sure to try them:
Gnocchi alla romana: These are a variant of the typical potato gnocchi. They are made with semolina and cooked with a butter sauce and of course, parmesan cheese.
Penne all'arrabbiata: the tomato sauce of this pasta has a special trick: hot chilli and parsley.
Fried artichokes: a classic Jew recipe, that is offered not only in kosher restaurants.
Risotto ai funghi porcini: These mushrooms were named "porcini" (piggy) by the ancient Romans, because they can get really big. If you are a rice lover, this creamy risotto will make your day!
Pizza Ortolana: is garnished with roasted vegetables like: eggplant, zucchini, bell peppers and tomatoes.
Insalata Caprese: a classic salad which includes: mozzarella, tomatoes, olive oil and basil leaves. The freshness of this choice is pleasing to the palate.
Pasta Cacio e pepe: Simple but tasty pasta cooked with Cacio cheese and black pepper.
Bruschetta: Typical italian appetizer, the most common version of this toast is with tomato, garlic, olive oil and basil, but you can find other variants like with olive paste.
Pasta e ceci: A winter dish consisting on a soup with short pasta and chickpeas.
Pumpkin flowers: Dipped in a batter and fried, they are stuffed with mozarella cheese and sometimes with anchovies.
Apart from these proposals you may find many vegetarian dishes or starters for every type of budget: restaurants, pizzerias by the slice and small bars offering  affordable fixed menus.
Buon appetito!
Paulina Ceballos