Aperitivo in Rome
March 3rd, 2012 posted by admin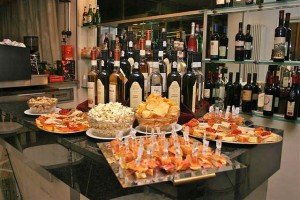 The Aperitivo, a tradition coming from the North of  Italy has now become very popular in Rome too. No longer just  a quick cocktail  with some snacks, but the premise to drink, sit calmly and quietly, accompanied by an appetizer buffet, is now spreading around.
The City offers various kind of Aperitivo, depending on your tastes: with food, alcoholic or cheap.
One of the most known and visited places in Rome is Double Zeroo (Doppio Zeroo, Via Ostia 68), near the University of Roma3. Former bakery, this restaurant offers aperitivoo (with two "o") from  18.30 till  21. The buffet is abundant ( unlimited pizza is  prepared ),  It 's perfect for youngs who prefer lively places.
If you look for a cheaper drink we would definitely recommend the bar "Celestina" (Via Ausoni 62) in San Lorenzo district, the University area in Rome.
Frequented every night by many students who will take over the sidewalk on the streetoutside, after the pub is full. The cocktails are good value for money(3.50 euros), but if you wish to eat the buffet you'll have to hurry, otherwise you won't find anything left … Ideal for an aperitif before a walk in San Lorenzo.
For those who prefer an economical solution could rely on any bar, where cocktails are not very expensive, but you  may have to do it with pretzels and peanuts.
What would you rather have: an abundant, economic or an alcoholic Aperitivo?