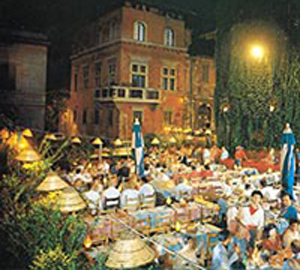 Trastevere, one of the most famous areas of Rome full of life with people from the center and the suburbs, Italians and foreigners. All with the desire of pleasant moments among the various places of the capital nights.Here, among the alleys, still lives the traditional spirit of Rome and one of the places that keep it is the restaurant "De Meo Patacca", built in 1959 and located precisely in Piazza de' Mercanti, in heart of this historic neighborhood. Strangely the founder of this wonderful restaurant is not a Roman, but an American, that by marrying an Italian girl decides to open the restaurant with the help of "trastevererini" friends.Just with the name can grasp a lot: Patacca Meo is the protagonist of a work by the end of 1600, which, together with Rugantino represents arrogant and brave types, witty and generous, that belong the popular district of the capital.
His figure, as well as in several comedies that have spread over time, is keep alive by the famous restaurant.
Some years ago I have been there by pure chance, and has since remained as one of the most special places I has been.
It is a sort of jump through the time as it returns to particular passed moments of Rome.
The atmosphere of this place is wonderful: there are the not modern lights, but gas lights or candles, inside as well as outside, in the square where the tables are arranged.
The decoration is very special, all ancient but well cared for.
The cuisine is exceptional, thanks to the respect of the Roman tradition that has, among the various dishes, a wide variety of appetizers, a magnificent wine of Roman castles, and excellent homemade bread and pasta.
The waiters wear typical costumes while working, use a "romanesque"language and between a meal and the other run of comedies really funny, performances that give moments of joy and culture to the guests of the place.
Great melodies of the musicians of Trastevere, the troubadours of the classics in their songs that reflect the authenticity of the Roman neighborhoods.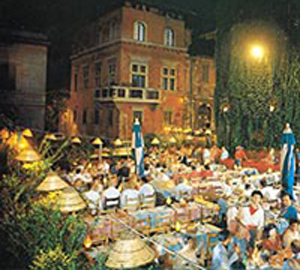 Absolutely recommended for those who, like me, would pass a cheerful and unique dinner in Rome, passed but never forgotten.