Roma Pass
March 23rd, 2012 posted by admin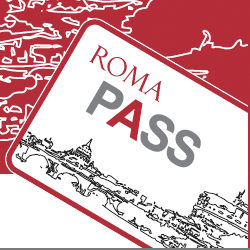 Price: € 30,00
Roma Pass, which was created thanks to the collaboration between Rome City Council, the Ministry for the Arts and Cultural activities, and ATAC, the Roman public transport company, is Rome's tourist-cultural card that gives tourists the opportunity to benefit from various discounts while admiring the City.
Free entry to the first 2 visited museums and / or archaeological sites of your choice. Includes the exhibitions held in the museum.
Discounts for the tickets to all other museums and / or archaeological sites visited thereafter.
Free use of the city's public transport network (bus, metro and railway lines Roma -Lido, Roma Flaminio Piazza del Popolo-Viterbo, Roma-Giardinetti), within the territory of the Municipality of Rome.
All special connections tpl Atac, the railway lines Trenitalia FR and all connections to and from Fiumicino and Ciampino Aeroporto are not included.
Reduced charges for use of the On-call Multi-lingual Medical Service for Tourists (MET Travel Health)
Tourist cultural service Roma Informa.
At the Coliseum a reserved turnstile is available for Roma Pass holders to get direct access to the monument
How to use it:
Fill it with name, surname and validation date
Valid for three days starting on the first visited site/museum and/or the first journey on the city's public transport network
It must be produced along with your identity papers when required by the staff in charge
Roma Pass Travel Health MET
A multilingual call center is available for tourist who need medical help: the telephone number is: (00 39) 06-43236291
Please note that most museums generally are closed on Mondays but we advise you check in advance.
Where to buy it: http://www.romapass.it/acquista.aspx?t=acquisto&l=en