Roma Romantica, Ponte Milvio ed i lucchetti dell'amoreRomantic Rome, Ponte Milvio and the locks of love
January 19th, 2008 posted by admin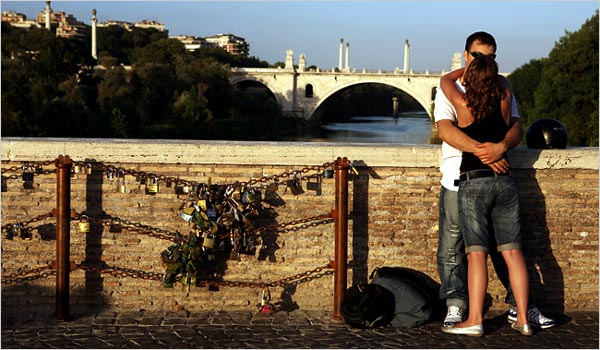 In the novel of F. Moccia 'I want you' (2006), now a real teen cult, the two protagonists promise eternal love closing a lock on third streetlight Ponte Milvio and launching the key in river Tiber.
The ritual has become one of the new symbols of the city.
The padlocks of love became hundreds, then thousands, were even stolen! Fortunately the police managed to regain the love of Rome and put padlocks on the streetlight.
Unfortunately the streetlight one day fell apart because locks weighed too much!
The mayor sorry for it has established chains of love instead of the lamp to give definitive accommodation to padlocks.

For couples seeking romantic Rome… don't miss Ponte Milvio and the locks of love! (Remember to bring your lock!).


View Larger MapView Larger Map
 [youtube]http://www.youtube.com/watch?v=kjZS5nG0FQo[/youtube]
Some nice addresses close to Ponte Milvio:
— 'The Gianfornaio' (Piazzale Ponte Milvio, 35). Bread, pizza, cakes, sandwiches… one of the best bakeries in Rome, and also one of the most expensive! Not to be missed.
— Daruma Sushi (Via Flaminia 464 Old / b). It 'a shop where sushi take away trays of sushi are ready to be taken away and perhaps enjoy sitting in Ponte Milvio. One of the best sushi in town, to deliver an address across Rome.
— Pastry Mondi (Via Flaminia Old 468). Famous bar, pastry and ice cream, attended by Rome VIP. Excellent.