Podcast e Turismo… è solo l'inizio!
January 18th, 2008 posted by admin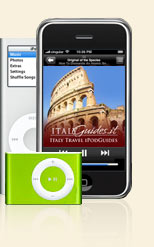 Sempre più di frequente ci si imbatte in turisti che girano la città con il naso all'insù, con le cuffiette alle orecchie tenendo fra le mani il loro ipod o un palm di ultima generazione
dove hanno preventivamente scaricato i migliori podcast turistici sulla città.
In rete ormai sono disponibili molte utili audio guide turistiche di Roma, solitamente scaricabili anche in un comune (ma recente) telefono cellulare.
Fra le tante scelte a pagamento… segnaliamo una buona risorsa gratuita:
Guide di Roma – ItalyGuides.it e Mercedes-Benz
(Colosseo, Pantheon, Circo Massimo, Fontana d i Trevi, Bocca della Verità – disponibili in Italiano, Inglese e Spagnolo)
Ormai l'evoluzione tecnologica del telefono cellulare è arrivata ad un punto in cui su questi dispositivi è possibile scaricare di tutto, dalle mappe della città ai migliori indirizzi di ristoranti scovati in rete, già ora si trovano modelli che integrano il navigatore GPS e la possibilità di connettersi alle reti internet Wi-Fi (quelle senza fili per intenderci), senza dimenticare la possibilità di scattare foto e fare video di buona qualità.
A Roma è attualmente possibile connettersi alla Rete pubblica Wi-Fi nel parco di Villa Borghese e in molti altri posizioni del centro storico (la mappa degli Hot Spot).
More and more frequently encounters tourists who visit the city using Ipod and mobile phone support where they previously downloaded the best podcast tour of the city.
In internet are now available lots of useful audio tour guides of Rome, usually downloadable in a common (but recent) mobile phones.
Among the many choices fee … Recommend a good resource for free:

Guide di Roma – ItalyGuides.it e Mercedes-Benz
Colosseum, Pantheon, Circo Massimo, Fontana di Trevi, Mouth of Truth – available in Italian, English and Spanish)

Now the technological evolution of the mobile phones came to a point where these devices can download everything from maps of the city's best restaurants addresses found on the net, there are models that integrate GPS navigation and the ability to connect to networks Wi-Fi (wireless ones for instance), not to mention the opportunity to take pictures and make videos of good quality.
In Rome is now possible to connect to the network public Wi-Fi in the park of Villa Borghese and in many other positions of the city centre (Hot Spot Map).