Trastevere Charm behind the river Tìber
January 27th, 2012 posted by admin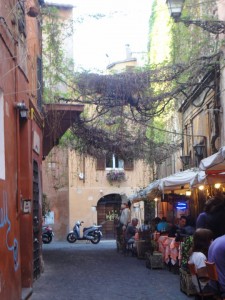 Trastevere
Charm behind the river Tìber
This is one of the most famous and old quartiers in Rome, its name comes from the latin trans Tiberis, which means "Behind the Tíber". It is always full of tourists and locals for many reasons;coblestones roads (girls wearing high heels may show their best skills walking here) ancient buildings, street artists, alleys, piazzas, fountains, restaurants, pubs, cafés and more.
The arquitecture is charming: medieval houses with the original facade, in light and neutral colors, some of which have climbing plants on the walls, trees and flowers; in many corners there are still images of the Madonna or the Virgen Mary, that have been there since the time when Rome was owned by the Vatican;it is a trafic limited zone during the the night, so if you're coming with a car,you better inform yourself about the forbidden hours because if you break the rule, no matter from where you're coming from, you'll receive a fine afterwards!.
The neighborhood has many museums, from which the Museo di Roma in Trastevere stands out, there you can see "Landscapes recalled: watercolours of Rome between 1876 and 1895 by Ettore Roesler Franz" . The districts, narrow streets and houses of times past shown in the watercolours provide a record and a reminder of how Rome looked up until the end of the 19th century. His work reflects the provincial city Rome once was, evidently behind the other european capitals, nevertheless after Italy became one country, great advances were made which the artist decided to disregard maby out of melancholy. The museum has another exhibitions, so it's worth it.
http://en.museodiromaintrastevere.it/
One of the most popular restaurants is "La Parolaccia" which means "The dirty or the four-letter word", this place is a typical trattoria where the funny thing is that you'll be insulted by the waiters, some of the comments are really offensive, therefore sensitive or thincklish personalities will do better not going. The clients already know what to expect, actually they wait with pleasure the first "slap", if you dare to confront them you may have some digestion problems, because the waiters wont leave you in peace for the whole night! According to the reviews online, fun is guaranteed though.
For a sweet treat, go to the ice cream chain "Ciuri-Ciuri" at Piazza San Cosimato, where you can taste a traditional sicilian dessert, best flavors to try are nociola (hazelnut) and almonds. Not very far from there over the Piazza San Calisto you'll find a Bar (same name as the piazza) chocolate ice cream here is absolutely superior, the place is open up until one or two in the morning, depending on the day, beers cost not much (around €3) they also have these vodka sorbets, that are just perfect for the summer heat. Other choices are Fior de Luna and Da Checco, but don't worry, the gelato is never running short!
If you're on a low budget and you still want a nice evening, you could make an aperitivo for just €7 at Freni e Frizioni, served from 7 to 10 pm, it includes a drink and all you can eat buffet, which is pretty assorted with salads, pasta, rice, many dressings like hummus, bread and fruits, the staff is always checking that there is no empty plates; the bar is at Via Politeama 4, near Piazza Trilussa. If your budget is really limited you can go to that piazza and bring your own beer or wine, the place is always crowded and a meeting point to start a walk in Trastevere, just be careful not to drink outside after 11 pm because is not allowed, at least up until march 17 you can't buy a drink to take away.
Another cheap solution is the trattoria and pizza place Carlo Menta, at Via della Lungaretta, be sure of arriving early because people do know about its low prices, a simple Marguerita pizza costs €4, while a pasta dish goes from €5 depending on the ingredients, anyway this is a well known restaurant with a good price/quality food.
At the street Vicolo del 5 there is a special Café called Rivendita Libri Cioccolata e Vino, we suggest to pay a quick visit and drink one of the very original shots, not only the mix is a house creation but they flaunt erotic names that prone to fantasizing like: "Quickie" "Orgasm" or "Lovebite",the shot will be served in a little chocolate shot . It's an tradition to put it the whole shot in your mouth, so you can enjoy the liquor and chocolate at the same time.
What else is waiting for you in Trastevere? Clothes shops, vendors street, comediants, magicians, like the AKA "The magician Guarda", guarda in italiano means " to look" he does his show with simple magic tricks, he's pretty obvious but funny too, if he has a big audience who participate, they will usually get excited by asking him not to stuck a sword in his throat.
To reach Trastevere you could catch one of the many buses like the H or tram 8, you could even walk from the center, is not far.
Paulina Ceballos