5 Curiosities about the Colosseum
August 10th, 2012 posted by admin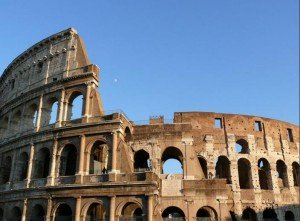 Did you know that the Colosseum is not round but oval?
It's 189 meters long and 156 wide with 57 meters of height, its perimeter is 524 meters.
Did you know that the Colosseum is used to support the international campaign against death penalty?
Since the year 2000, every time a convicted to death gets its sentence commuted or is released, no matter the location, or when the death penalty is abolished somewhere in the world, the internal lights of the Colosseum change from white to gold.
Did you know that its real name is Flavian Amphitheater?
It comes from the latin Flavium, the family name of the emperors that began and ended the construction: Vespasian and Titus.
Did you know that it is believed that at least one million of animals died inside and 500,000 humans?
Only for the inaugural games 9,000 animals were slander and 2,000 gladiators lost their life for the battles for 100 days. The combats were between the animals and sometimes animal vs man.
Did you know that only a few celebrities have performed with the Colosseum as background?
Is no possible to host a concert inside the monument, but among the singers that have had this honour we can recall: Paul McCartney, Ray Charles, Andrea Bocelli and Elton John.
Tip: If there is a long cue to buy the ticket and you wish to save time, get the RomaPass or the Archeologia card. The ticket for the Colosseum includes the entrance to the Roman Forum and the Palatin, is valid for 2 days (consecutive) so you can visit one of these monuments first.
Paulina Ceballos